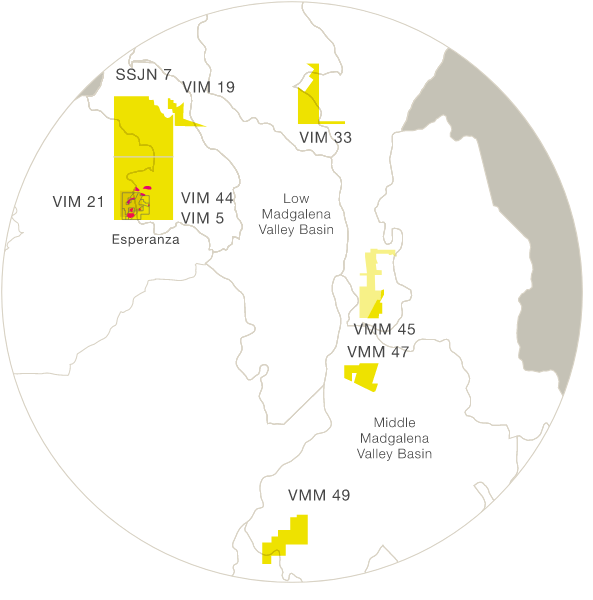 We currently operate ten gas block licences in the Magdalena Valley basin in the Departments of Córdoba, Sucre, Cesar, Magdalena, and Santander, two shale blocks in the Magdalena Valley Basin in the Department of Cesar, and a crude oil block in the Eastern Llanos basin in the Department of Casanare.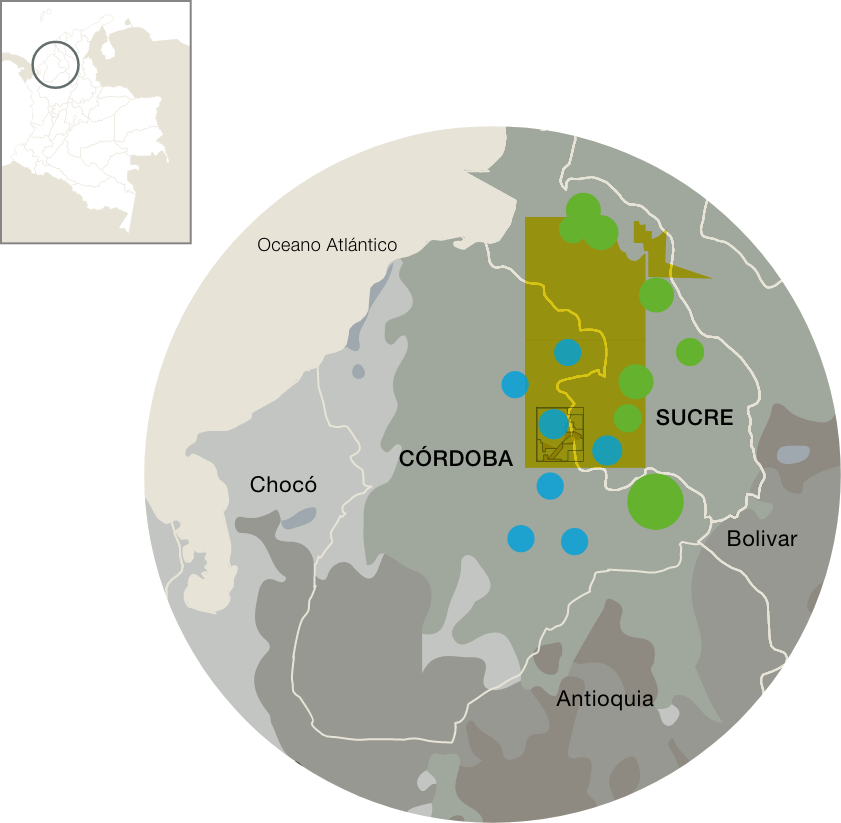 INDIGENOUS RESERVATION AREAS NEAR THE OPERATIONS
Guacharaca 3D seismic survey

 
(La Esperanza, San Matías, Escobalito)

Acordeón

(Montegrande)
LF Acordeón – Pandereta
(Montegrande)

Ocarina

(Montegrande)

LF Clarinete – Jobo

(San Carlos)
Installation of piezometers in
Pandereta (Villa Fátima)
La Unión Compressor Station
(La Esperanza)

Pandereta 5

(Villa Fátima)

Cañahuate

(San Carlos)

LF Nelson 13

(Los Ángeles)

LF Pandereta – Jobo

(Montegrande,
Villa Fátima, San Carlos, Montegrande)

Nelson 7

(Los Ángeles and Cabildo Santiago Abajo)

Palmer 2

(Santiago Abajo)
NATURAL RESERVE AREAS NEAR OPERATIONS
Regional Integrated Management District of the Ayapel wetlands complex
Bird Conservation Area, Ayapel wetlands
Civil Society Nature Reserve. Roca Madre Reserve located between Colosó and Toluviejo
The Serranía de Coraza y Montes de María Na tional Protective Forest Reserve. Located in the municipalities of Colosó, Chalán and Toluviejo, the southern part of this reserve forms part of the SSJN7 block.
Galeras Regional Integrated Management District for Open and Brush Savanna Ecosystems and Associated Systems. Located in the municipalities of Galeras and San Benito Abad, the western part of this Management District is located in the S SJN7 block.
Bosque de Santa Inés Regional Protective Forest Reserve. Located in the municipality of San Marcos, the entire reserve is within the VIM5 block.